LegalChatNow!

LegalChatNow! allows you to create instant trust between you and your potential clients.  You can engage with prospective clients immediately and move them from potential clients to actual clients within minutes.  No operators, no intrusive interruptions with a request to chat, just you and a potential client! Call us today for pricing and a demonstration.
Chat with a potential client anywhere, in real time, using your mobile device, without disclosing your cell phone number.
Experience safe and secure communication between you and your potential client.
Our service utilizes simple, easy to use technology – SMS texting – the same technology you use to text with your spouse, kids or golfing buddy. No additional software is needed.
A live chat service can increase website's conversion rates by as much as 50%.
Have the best of both worlds.  A website visitor can interact with your firm through customized intake questions, while you or other members of your firm watch the conversation on their mobile phones. When you see what the issue is, jump into the chat, the customized intake questions stop and you are communicating directly with your potential client.  24 hours a day, seven days a week, a potential client can always link/interact with your firm.
Our service is the only live chat service designed by attorneys, specifically for the legal marketplace.
Potential clients can connect with up to four members of your firm, at the same time.
Chat box can be reused on multiple websites at no additional charge, as well as a link to the chat service can be embedded in the text and on social media
Set up is quick and easy. Just copy and paste a few lines of code to your website and you are up and running.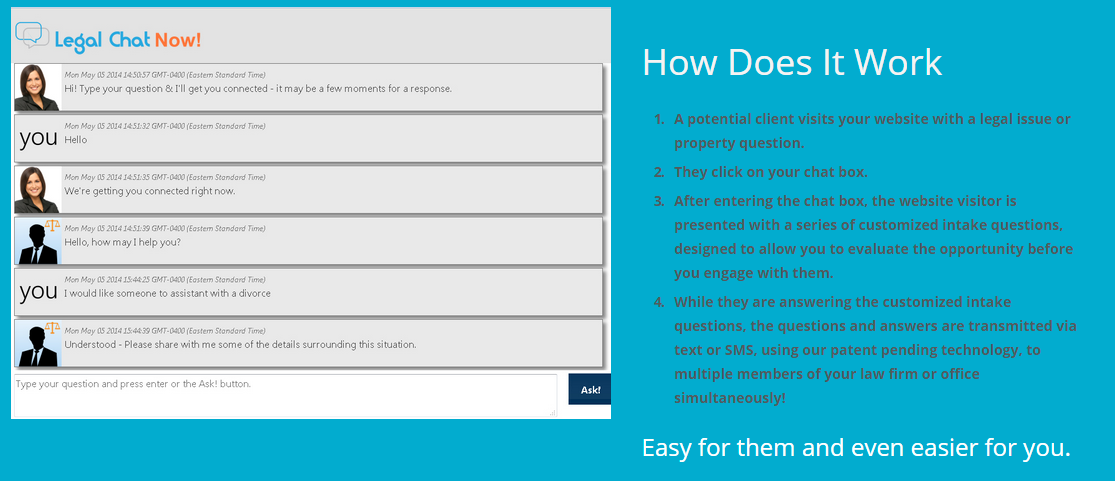 $150 Setup fee Waived + Special Monthly Rates Discount Code: 360